How to Restore Corvette Valve Covers
Restoring '84-'96 Corvette Valve Covers
By Cam Benty
Photography: Cam Benty
Valve covers are the engine's topping, and a shiny clean set tells the world a quality, high-performance engine resides in your engine compartment. For owners of C4 ('84-'96) Corvettes, valve covers are often eyesores. Exposed to high underhood temperatures, they frequently shed their outer coverings or, worse yet, part of the coverings leaving a blotchy, ugly, black undercoating. The result of this erosion is not good.
Zip Products offers Valve Cover Paint (PN ZMG-92), which correctly restores the original coloration of the valve covers as delivered from the factory. The total time for this transformation is about an hour, including bead-blasting the old paint surface, reapplication of the new paint, and total drying time. This is one terrific weekend driveway project and well worth the effort.
<![if !vml]>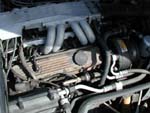 <![endif]>
The original valve covers were in poor condition. Much of the undercoating was visible under sections that had peeled away.
<![if !vml]>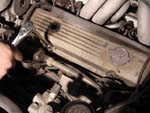 <![endif]>
The first step was to remove the covers.
<![if !vml]>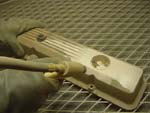 <![endif]>
The next step was to clean them with solvent and bead-blast away the old paint. Try not to allow bead material to come in contact with the underside of the cover, as the engine could later ingest the debris.
<![if !vml]>

<![endif]>
<![if !vml]>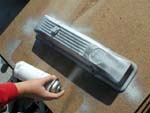 <![endif]>
The valve covers were painted with the Zip Products valve cover paint. Several thin coats were applied with drying time between layers. After a thorough drying, the insides of the covers were cleaned again, new gaskets installed, and they were bolted back in place on the engine.
<![if !vml]>

<![endif]>
<![if !vml]>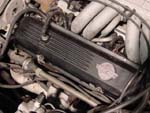 <![endif]>
The final look is a great improvement--no need to keep the hood closed during cruise night anymore!
<![if !vml]>

<![endif]>
Zip Products
Mechanicville, VA
(804) 730-7034
www.zip-corvette.com