How do you improve on perfection? Like most things, there is always room for improvement, and Corvettes are no exception. For Corvette fans, there are some things C4s and C5s can do much better than sharks ('68-'82). Luckily, the folks at Stainless Steel Brakes Corporation have a solution for the braking blues.
If you've been paying close attention, you've witnessed a number of upgrades to our '72 Corvette. Thus far, we've converted our differential to 3.73:1 gears, installed a rack-and-pinion steering kit, offset trailing arms, and a complete Vette Brakes & Products rear suspension and traverse spring front suspension.
Now it's time to turn our attention to the braking system. After lots of research, we selected the Stainless Steel Brakes Force 10 system. In addition to the SSBC parts, Classic Tube supplied the brake lines.
Our install hit a few snags along the way due to previous modifications. If you remember from an earlier article, we installed offset trailing arms from Van Steel. At that time, Van Steel required we supply the old trailing arms to utilize the spindles for the offset trailing arms. The company also needed the front hubs plus all four disc-brake rotors from SSBC to set them up for correct runout. SSBC did us a favor by shipping the rotors, while we shipped the front hubs and trailing arms to Van Steel for this procedure.
Follow along as we guide you through the installation of these parts and improve our shark's stopping power.
<![if !vml]>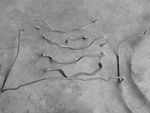 <![endif]>
Here's our new brake-line kit waiting to be installed. We removed the old lines, saving the line clip bolts, but we trashed the old brake-line clips and ordered new ones. The easiest way to remove the old lines is to loosen the ends, cut the old lines, and remove the smaller pieces.
<![if !vml]>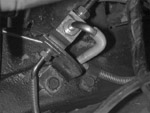 <![endif]>
Regardless of what everyone says, it is possible to install new brake lines without removing the body from the frame. To install the front-to-rear line we simply dropped the transmission crossmember enough to slip the line into position. Once all the main lines were in position, we tightened our connections at the main distribution block just below the master cylinder.
<![if !vml]>
<![endif]>
Next, we located the two master-cylinder lines and fitted them between the master cylinder and main distribution block. You may need to tweak them a little to get a nice, clean fit.
<![if !vml]>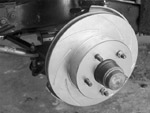 <![endif]>
We started with the front brakes by installing the slotted rotors, aligning the mark on the rotor with the mark on the hub made at Van Steel. We secured them to the hub using a couple of lug nuts.